Book a Show
We travel the world and we bring laughs and the truth of Christ with us. Click now to book a show at your business, church or non-profit.
Book Now
Donate Now
YOU make it possible for us to take our ministry all over the world. Your gifts are tax deductible and they are an investment in us and in the people we reach.
Donate Now
Fund a Show at an Adult Rehab Center
Sponsor a show at one of over 180 Salvation Army Adult Rehab Centers. Our sponsors ensure that we take the life-changing message of Jesus Christ plus outrageous fun to those who desperately need it - at no charge. Your sponsorship is tax deductible.
Fund a Show(s)
Laugh Right Now
Need a laugh right now? Some of our favorites from the past are a click away.
Click Here to Laugh
Still Laughing (New Bean and Bailey Comedy Album)
Sale price Price $10.00 Regular price Unit price / per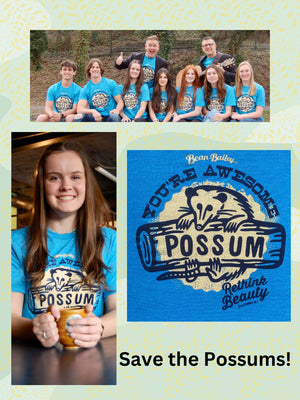 Possum T-Shirt
Sale price Price $20.00 Regular price $20.00 Unit price / per
"The Bible says in Proverbs that a merry heart doeth good like a medicine. Tonight at the WinShape Christmas banquet, Bean and Bailey earned their doctorate degree!"


LAUGH OUT LOUD!
"Bean and Bailey are the best comedy duo I have seen. They put me on the floor."


"Bean and Bailey are awesome. Funny, engaging, enthusiastic and down to earth. They had our group roaring after a long day in Corporate meetings. Truly a talented duo!"



JUST CALL THEM
"I haven't laughed that hard in 10 years!"